Audio
Libsyn recommends using MP3. We do not recommend using AAC (M4A) files as they will not play on Blackberry devices and many other portable media players.
Spoken Word Shows:
Stereo Bit Rate:  192 kbps (In Mono this gets cut in half) Sample Rate:  44.1 kHz Channels:  Mono  
Music Shows:
Stereo Bit Rate:  128 kbps Sample Rate:  44.1 kHz Channels:  Stereo Stereo Mode:  Joint Stereo
DO NOT use Variable Bit Rate. You want your MP3 files to be CBR (Constant Bit Rate).  VBR = Bad.  CBR = Good.  Here is a link to more on why VBR = Bad
If you do not already have a program for creating MP3's, iTunes can generate them for you easily.
iTunes can be downloaded from the Apple site by going to this link and clicking on Download. Once you have installed iTunes and have launched it, you will need to change some of the preferences.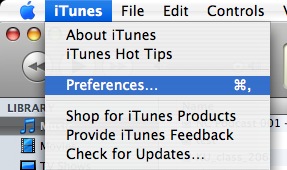 On the Mac, "Preferences" is located under "iTunes" in the menu bar.  On the PC, it is located under "File"
Once "Preferences" is open, select "General" then "Importing Settings"
In the new Pop up box change "Import Using" to "MP3 Encoder". Then for Settings change to "Custom".  A new pop up window should appear.
Choose the settings per the type of show you are doing, keeping in mind our recommendations above.
Once you make the changes, Click "Ok" and then "Ok" again.
Note: It is very very important to make sure the Sample Rate is set to 44.1 kHz.  If you choose any other setting, your recording will not play correctly on some of the flash players found at various podcast directories.
You are now ready to import the WAV/ AIFF file into iTunes.

To import the file drag the WAV / AIFF file into iTunes.  It will place the file in the Music Section of iTunes.  As can be seen above for this example the file "Kind" is WAV audio and the size is 5.1 MB.  Click once to select the file (This will highlight the file).

To convert this file, Select "Advanced" from the menu bar and then "Create MP3 Version".

It will take a few seconds to convert the file.  When it is done you will hear an audible ping. You can see there is now a second file with the same name as the first.  But the "Kind" is MPEG audio and the size is 1.9 MB versus the original 5.1 MB. Actual file size will vary depending on the Bit Rate chosen.
Here is a quick rule of thumb for file size based on Bit Rate vs length of recording:
64 kbps = 0.5 MB per minute

96 kbps = 0.75 MB per minute
128 kbps = 1.0 MB per minute
Note:  Sample Rate does NOT affect file size so do not change the 44.1 KHz sample rate to a lower setting thinking it will save on file size – it will not.  We would not recommend going below a Bit Rate of 64 kbps as most people will start to hear digital artifacts in the recording.  Also there is no reason to go above 128 kbps because most people will not be able to tell the difference in a 128 kbps file vs a 320 kbps file.  Our recommendations are 96 kbps for Spoken word podcasts and 128 kbps for podcasts with lots of music.
Video
The libsyn system is compatible with many of the major video formats utilized today. However, we have a set of very specific format recommendations that will result in high quality video across the widest range of playback devices. If you are publishing in High definition as well as Standard Definition then please make sure to use the High Definition file as your "Master File" in step one of publishing. This ensures the best possible video when converting to lower resolutions for lower bandwidth delivery and in the assembly of Ad insertion.
Standard Definition
Preset if available: iPod Video 640×480 fullscreen, 640×360 Widescreen Mpeg4 Part 10: h264 video compression up to 1.5 Mbps Baseline Profile Fast Start Enabled 30 fps AAC-LC audio up to 160kbps, 48khz Stereo .m4v(recommended) or .mp4
Note: If you are publishing in standard definition use 640 x 480 for fullscreen – 640 x 360 for widescreen. The bit rate should be at least 1mb/s or 1000k for standard definition. The ipod video limitation for h264 is up to 1.5 Mbit/s so take advantage of that. When you set your bit rate the compressor of your choice doesn't necessarily use all of that, you are basically setting your ceiling. We see lots of good video in the range of 1.1 – 1.2 Mbit/s. These specs can usually be accomplished by utilizing the "iPod Video" preset of your compression software.
High Definition
preset if available: Apple TV 1280×720 at 24fps, 960×540 at 30fps Mpeg4 Part 10: h264 video compression up to 5mbps Max (use average 2.5 mbps) Progressive Main Profile Fast Start Enabled AAC-LC audio up to 160kbps
Note: For high definition we recommend publishing at either 1280×720 or 960×540 for resolution. While 960×540 is not always considered to be true HD, it works well across the libsyn system and the web. You should keep your bit rate under 5mbps. These specs can usually be accomplished by utilizing the "Apple TV" preset of your compression software.
Notes on libsyn video recommendations:
Mpeg 4 with H264 Compression
The H264 is an efficient and widely compatible format. This should be h264 video within the mpeg 4 container. If you utilize the quicktime container (.mov) you are limiting the playback compatibility and distribution points. Quicktime may play in the ipod, but there is no guarantee that it will work properly in other h264 compatible devices or flash based web players.
".m4v" and ".mp4" are both appropriate extensions. Both are compatible with our system. We do generally recommend mp4 over m4v for best compatibility across all destinations and platforms.
Fast Start Enabled
Fast Start is an important function to enable in your video. What it does is let your viewers watch the video while it is being downloaded. This is often known as progressive downloading, or arguably misnamed "streaming". What it does is move the movie metadata to the beginning of the media file, that way the playback method (quicktime, flash, etc.) knows what it is expecting and can begin playing the video as soon as possible. There are many Podcast Portals that load the quicktime player in the browser to playback a video podcast, or often times your viewers will click on a link to the file to view your show. If you do not enable fast start for your files than the entire video has to be downloaded before you can watch it.
---
← Knowledge Base